What's new for Employees
Find the latest Division-wide website resources.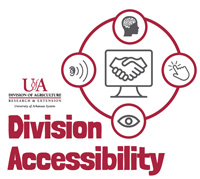 New and Improved Division Accessibility Resources
Within our roles as public educators lies the responsibility of making our content accessible to everyone, despite situational, physical, or cognitive limitations. Navigate the process of making your images, videos, links, and web pages accessible by using our resources.

UADA Events Marketing Resources
The IT and Communications team created a new Events Marketing Road Map complete with checklists, social media marketing strategies, and more.
Get started with event marketing
---
See new resources on the public website - uaex.uada.edu!


Have something you want featured? Send a quick email to Kristena Merritt at kmerritt@uada.edu