What's new for Employees
Find the latest Division-wide website resources.
Tech Tuesday PowerPoint Tips - Trick Out Your Presentation!
Watch the presentation for tips on creating beautiful and accessible presentations using Microsoft PowerPoint.
PDF Accessibility Training Jan. 25th
If you have to upload a PDF to our website or send a PDF to a client, it must be accessible for screen reader users.
And if you're trying to make a PDF accessible, but you don't have access to the original file the PDF was created from, remediating the PDF using Adobe Acrobat Pro or Foxit is an option. It is more complex than simply adding accessibility requirements in the native software such as Word, PowerPoint, etc. But don't worry, our trainings will help!
Join us January 25th at 10am for the Adobe Acrobat training and 2pm for the Foxit training
In the meantime, check out our new PDF Accessibility Guide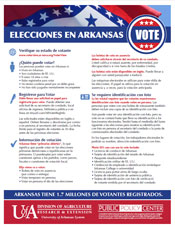 Handout About Elections in Arkansas Now Available in English and Spanish
People new to voting in Arkansas have a new resource for learning about what to expect when casting their vote.
The Public Policy Center on Monday released a handout in English and Spanish about elections in Arkansas. The materials were created at the request of an Arkansas library system that wanted more materials for Spanish-reading voters in their community.

UADA Events Marketing Resources
The IT and Communications team created a new Events Marketing Road Map complete with checklists, social media marketing strategies, and more.
Get started with event marketing
---
See new resources on the public website - uaex.uada.edu!


Have something you want featured? Send a quick email to Kristena Merritt at kmerritt@uada.edu